Pro-Seal – quality company!
Second time I have used Pro-Seal to clean and seal my pavers. Adrian and Andrew do a high quality job, paying attention to detail. Give them a call as you will not be disappointed.
Pat D.
Good job!
Good job, verything is very clean. Good communication.
Wolfgang Plasa
Esplanade
Adrian and his son cleaned our travertine lanai and front walk. It was quick and very well done. The price was certainly fair; and we will use their services again.
R. Bruce FOSTER
I have contracted with Pro-Seal
I have contracted with Pro-Seal several times over the past three years. They are always very efficient and professional, and always do a great job. Their cost is always very competitive.
I would strongly recommend them to my family and friends.
Thanks Adrian for another job well done.
Stanley Ksiazek
Yes, they are pros
Adrian supplied a prompt quote, set expectations as to what I would get, followed up with reminder and arrived within minutes of expected time. All of Pro seals team are polite and approachable and follow a process that is very efficient and effective.
They do great thorough work and know what they're doing. Same people as last time I worked with them and a solid family feel.
You can be confident with them and trust the work will be done right.
Doug Prehm
McBride Pro-Seal was highly recommended
McBride Pro-Seal was highly recommended to us from many residents in our Naples community and we were not disappointed.
Adrian called back within minutes of my leaving a message requesting a quote to seal our driveway and lanai pavers and we set up a date for him to come out to our home.
We are so pleased with Adrian and his crew….not only did they do a great job, they were such great guys. There's no need to look any further! Thank you Adrian!
Marcie & Steve Agnello
The Real Deal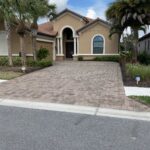 We bought one of the models in Esplanade in 2016 and rented it back to the builder for four years. In August 2020 they turn the home back over to us and we noticed how dingy the driveway and patio had become. Our neighbors driveway was vibrant and we inquired how they got it to look that way. They responded "you need to see Adrian @ Pro-Seal" to which they highly recommended him and his team.
We called Adrian that morning and he arrived that afternoon to review the property give us a quote and let us know his availability the following week. The entire process was professional, seamless and enjoyable. During our conversations, ADRIAN told us about other vendors He and fellow Esplanade homeowners have used for various services.
We return to Dallas and the following week the Pro-Seal team arrived on the schedule date, power washed and sealed the patio and driveway. Pro-Seal brought these paver bricks back to a vibrant sheen much like we had seen throughout the jobs they had completed of our neighbors throughout Esplanade.
We found Adrian and Pro-Seal to be the "real deal", True Professionals in all aspects of their business and we highly recommend them. Any questions please contact me at Sglittle@gmail.com!
Steve & Pam Little
Clyde S – North Naples
Adrian was very prompt in preparing the quote to clean and seal our driveway and lanai. He gave a very fair price and completed our job on time as promised. His team was hard working, neat, courteous and thorough. Very professional. Both the driveway and the lanai look brand new. I highly recommend them and will use them again in the future.
Clyde Schock
Adrian and his son were
Adrian and his son were awesome. Very timely and very professional. The work was done quickly and looks great!!!! Very honest and up front as to what was and wasn't needed to be done. I recommend them to anyone.
Greg Roblek
The team at Pro-Seal did
The team at Pro-Seal did a great job, on time and price as quoted. Adrian even coated the driveway a third time, to use up the open container of sealant, not to waste it. Power washed prior to sealant. Would highly recommend. Thanks, Tim at LaMorada.
Timothy A. Binger
Pro-Seal is top notch!! Over
Pro-Seal is top notch!! Over the last five years, they have cleaned and sealed my lanai and front pavers only when needed. Excellenct customer service and fairly priced. I will continue to use them as my cleaning and sealing team and highly recommend them to friends and neighbors.
Randy L Bergquist
Super job by ProSeal
We have used ProSeal each year for care and maintenance in all our paving and sealing needs. They have been great. You needn't look further. They were extremely professional, reasonably priced , and conscientious! Will be using them next year as well!
Eva McKendrick
Pro Seal
I used Pro Seal many times!. I'm very happy with all aspects of the job. I highly recommend them for all your power washing and sealing of driveways/patios!
Bob Mahoney
Dan & Betty B.- Ave Maria, FL
As recent buyers of a newly constructed home – we decided to expand the square footage of our lanai into the back yard.  The design called for pavers across the entire extension that matched the original part of the lanai which came with the house.
Well – pavers that are a few months old – which are not professionally sealed and protected – will quickly lose their original color and richness in the hot Florida sun and rain.
Once the extension was finished, I could see a clear difference in the new vs. original pavers.
Enter Pro-Seal.   Adrian McBride is the consummate professional.  Extremely knowledgeable about his services and products, accurate quoting, fast in execution, and highly customer-centric.
For those of you who have experienced the "waiting game" with a contractor and broken promises – you can understand why these qualities are so crucial in anyone working on your home.
We have recommended Adrian highly to our neighbors and will continue to do so.  We're also planning to call him back to pressure wash before rainy season starts!
Rudolph G. – North Naples
My name is Rudolph G. I live in Stonecreek in North Naples. I was looking for a company that would seal my pavers & pressure wash them and my neighbor referred Pro-Seal paver sealing & power washing.  I called Adrian to come out to my house to give me an estimate on my pavers. He was very prompt and on time. He had a friendly attitude and gave me a fair price. After completing my pavers, I was very satisfied and very happy with the work that was done. Thank you Adrian for taking care of me.
Jim W. – Canopy Circle
Service was better than we anticipated. Prompt, courteous, detailed, and professional. Upfront, fair pricing. Would recommend to our neighbors!