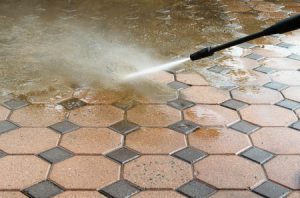 At McBride Pro-Seal, one of the many services we offer to home owners in the Collier County, FL area is pressure washing (power washing). We recommend that pavers be washed once or twice a year to clear out unwanted mold, debris, or fungus that has accumulated. Cleaning helps restore pavers to their original glow and has them looking as good as new.
Home owners should consider the great benefits of pressure washing natural brick to restore their surface.
It increases property value.
If you're thinking of selling your home, or in the market for an appraisal, some studies have shown that a proper pressure wash and other maintenance can increase your property value and curb appeal. Why? Because your property looks more inviting to potential buyers and shows that you're on top of its upkeep.
It's preventative maintenance.
As mentioned, pressure washing get rid of things like mold, fungus, and debris, which can cause costlier problems later on if not properly taken care of—like loss of grout sand, staining, or premature aging. Keep your property healthy for longer with a timely wash.
It's good for the environment.
And this reason is often overlooked: since it doesn't rely on added chemicals that can hurt the surrounding environment and landscape, pressure washing is one of the most eco-friendly alternatives to cleaning your home. Because why hurt your home, and the environment?
With these benefits in mind, there's no reason why you shouldn't get your home pressure washed and revamp your natural bricks. Contact McBride Pro-Seal for a quote today!