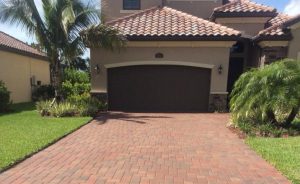 When brick pavers are first used to create a walkway or patio, they typically look beautiful. However, over time, brick pavers start to look dull and lifeless from every day wear and staining. In some cases, weeds grow in between your pavers or mold and moss gather in the crevices causing your walkway or patio surface to look unsightly and dirty.
Pro-Seal Paver Sealing has some tips that will help you maintain your brick pavers and keep them looking their best.
Evaluate Brick Pavers for Signs of Settling
Over time, brick pavers can settle and create an uneven surface. Whether is it poorly aimed sprinklers or erosion from too much water, you may have to reposition pavers to make your surface even again.
Pressure Wash Brick Pavers to Remove Debris
 Once your brick pavers positioned properly, you should clean them with a heavy-duty pressure washer that is capable of removing dirt, mold, grease and stains.  A special brick paver cleaner maybe necessary to remove tough stains. We suggest hiring a professional in order to make sure commercial equipment and the proper sealant are used for the best possible results.
Place Joint Sand Between Brick Pavers
One problem with pavers is that dirt will settle in between them and ruin the appearance of the pavers. At the same time, weeds fight their way through cracks between pavers and hurt their overall look. You can suppress these things with regular cleaning and sealing.  During routine maintenance pavers are analyzed to see if additional compound sand is needed.
Apply a Sealant to Protect Them
While you don't have to apply a sealant to your brick pavers, it's a good idea if you want to harden the sand in between the bricks and keep your walkway or patio looking great for a long time. A sealant will act as a barrier to dirt and other debris from working its way into your pavers. It will also make your walkway or patio shine and look like new again.
McBride Pro-Seal offers brick paver sealing and cleaning in Naples, FL. Call us at 239-641-7325 today to arrange to have your brick pavers maintained.